How to become a structural engineer
The College of Contract Management's Advanced Diploma in Structural Engineering programme is the right choice that will set you on the path to becoming a professional structural engineer.
Accreditation
The course is accredited by the Institution of Civil Engineers (ICE), the Institution of Structural Engineers (IStructE), the Chartered Institution of Highways & Transportation (CIHT) and the Institute of Highway Engineers (IHE) as fully satisfying the educational base for an Engineering Technician (EngTech) membership status.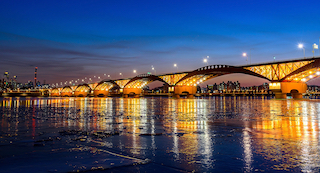 This is a live online course, which you can study from wherever you are in the world. Construction Industry Employers recognize Advanced Diplomas as prized qualifications when they are looking to recruit.
Our advanced diploma will enable you to become a structural engineer and to study towards entry to an Honours Degree at a variety of university's worldwide including in the United Kingdom.
This is an easiest academic route which applies academic theory to practical situations.
Structural Engineer Award
After successful completing the second year the advanced diploma is awarded which allows to become EngTech member of the Institution of Structural Engineers (IStructE) in the United Kingdom. After successfully completing the first year an Advanced Certificate will be awarded by the College of Contract Management.
Method of Delivery
The lectures are delivered live online, so any questions can be addressed to the course lecturer directly. All online lectures are delivered outside of the normal working hours such as weekends or weekdays evening. If you have missed any of live lectures, all supporting slides and recording of the lecture video will be available onto our student portal (Moodle) from following day when they can be accessed at any time.
You need a computer and an internet connection to follow this course. The advanced diploma runs over two years and consists of 12 modules in total and performance is assessed via set assignment for each topic. Please click our weblink for further information of the modules.
Fees and Payment Plan
This is not an expensive cost to become a professional structural engineer compare than the greatest opportunity from the UK education provider.
The programme fees can be paid via one full payment of £2,280 at the beginning of each year or via a Monthly Direct Debit at £225 per month for a total 24 months.
To apply and enroll on to the Advanced Diploma in Structural Engineering programme, you can easily sign up via website. Please click the Apply Now button.
If you wish to pay via monthly direct debit please contact us on the following contacts, then we can send you the relevant WorldPay link to make a secure payment.
Telephone:+44 1420 481681
Email: enquiries@theccm.co.uk